WORKPLACE IMPAIRMENT TRAINING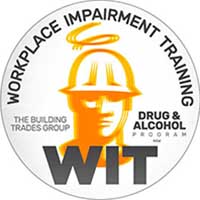 Workplace Impairment Training (WIT) is designed for site workers and is a training program that features talks, films and supporting materials and is designed to explain policies and procedures, legislation, recognising impairment in yourself and others, and the available pathways for help.
WIT is conducted on-site or at a mutually agreeable location. Minimum class sizes are to be 10 for initial roll-out with a maximum of 20 participants per session.
The cost to employer is $175 (Incl. GST) per participant payable to The Building Trades Group on booking of training.
It is a minimum two hours in length and covers topics including:
Workplace Health and Safety Act overview
Mental health issues
Fatigue – causes and coping mechanisms
Management of illness and injury and the rehabilitation process
Statistics related to drug and alcohol use including workplace deaths and accidents associated with impairment and current usage
Harm related to drug and alcohol use
Detection rates for illegal drugs
Drinking responsibly and understanding how long alcohol stays in your system
Drug and alcohol testing overview
Foundation House and its services
Participants deemed competent will be provided with an impairment training induction card which is valid for 5 years from date of training. Training of additional participants after initial roll-out will be billed on a minimum of 10 participants per class.